The idea of this method is based on many years of o sensor and an improved suction-infusion pump. The irradiation causes breaking of the intercellular bonds between the adipose cells, which causes the dense tissue to turn into a emulsion of separated fat cells. They remain alive and undamaged, but separated. The emulsion is then suctioned out under a low pressure. All the process is delicate and much less invasive than any method of previous liposuctions.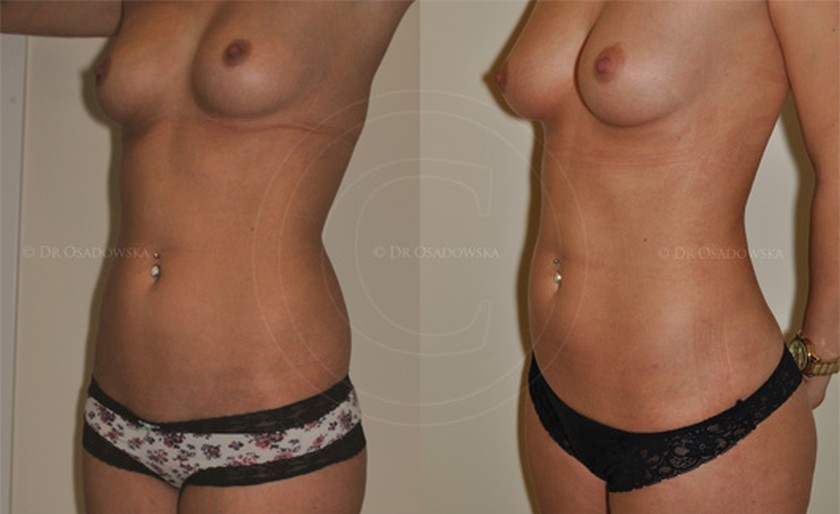 Photo: liposuction of waist with breast augmentation with own fat.
(C) 2014 Dr. Ilona Osadowska
Strong skin tightening is a unique and complimentary effect of the laser liposuction method. This is particularly beneficial in case of its flaccidity or the occurrence of stretch marks. Removed fat cells are intact and can be used for transplantation, e.g. to enlarge the breast or revitalize the skin of the décolletage.
LipoLife is an interesting method because, as one of the least invasive methods of liposuction, it provides additional benefits and new therapeutic options, translating into high patient satisfaction.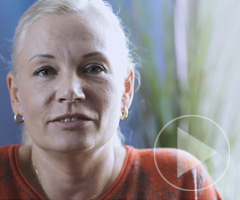 My liposuction LipoLife Margaret, a movie trailer. April 2017
LipoLife will be especially interesting for people who
want to undergo an effective liposuction with minimal damage to the body,
want also to improve skin condition in treated areas, typically: stretch marks, laxity and scars,
being active, don't have time for downtime,
want to avoid a general anaesthesia.
Intervention
Due to the strong stimulation of skin renewal LipoLife will be a particularly interesting method for people with stretch marks in the areas undergoing surgery and with flaccid or weak skin, for example after a large loss of weight or after pregnancy.
The procedure is performed under local anesthesia, which is perfectly sufficient for a comfortable procedure. Pain complaints reported by patients are clearly smaller than with the previous generation of laser methods.
After the procedure, patients put on pressure clothes and go home. Characteristically for the new method - bleeding during and after surgery is very limited. In the majority of patients no major hematoma occurs after the procedure.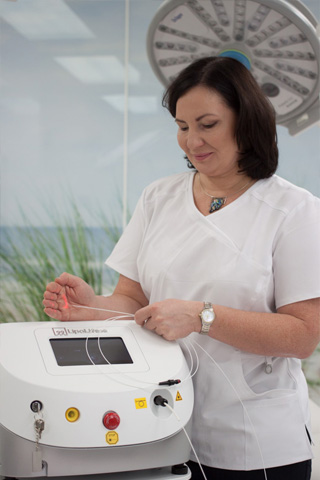 Dr. Osadowska first to introduce LipoLife in Poland
We have introduced this method to Poland in August 2016. The first LipoLife treatments in the country were made by Dr. Ilona Osadowska in our clinic in Poznań. Currently, our experience includes several hundred LipoLife treatments a year - liposuction, and breast and buttock modeling. LipoLife is available in all our clinics, i.e. in Szczecin, Poznań and Warsaw. Interested persons are invited for consultations. There is also an offer with a discount for the model..
Post-treatment care
Immediately after the treatment, we assume individually adjusted compression clothes. We choose them according to the size of the patient. Use for 6 weeks, 24 hours a day. After 1-2 weeks, we start a series of manual lymphatic massages. A cycle of 10 treatments should be performed twice a week, at possibly equal time intervals.
Advantages of LipoLife
LipoLife is an interesting method due to very low trauma and quick convalescence. In the hands of an experienced doctor, it makes it easier to obtain nice effects and high patient satisfaction. The healing process after the procedure is extremely fast. Most patients do not have hematomas at all.
Often already one week after the surgery swelling is reduced to be nearly unvisible and the treated area gives the impression of being intact by the doctor. This is not always the case, but when we compare LipoLife with other methods of liposuction, we notice the clear benefits offered by the new method in this field.
Prices in British Pounds
Our prices for liposuction LipoLife start from £ 990 for small body areas. Typically we correct 2-3 areas duirign one session with prices from 1990 to 2390 British Pounds for that. Fat transfer to buttocks or breast is possibel at extra cost.
If you come from abroad, you need to consider a travel package on top of that, approx. 120-180 Pounds.
Doctors, Clinic
Dr. Ilona Osadowska, Surgeon

Dr. Dorothy Szostek, Surgeon
Dr Osadowska
Clinic & Operation Centre
Szczecin, Poland
Aleja Piastów 30
See: Google Maps
Coming from abroad
To perform a Liposuction we ask most patients to come for 3 days and 2 nights. We organize your stay including choosing best flights, booking airport transfers, hotel or apartment and all city transfers at no extra fees. You can pay or refund these these services after arrival.
To discuss details or book your appointment, please CONTACT US