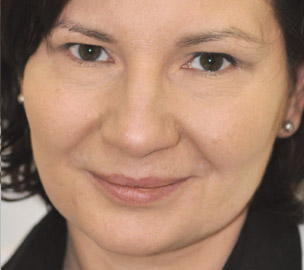 Dr. Ilona Osadowska is especially interested in minimally invasive methods of face and body beautification, rejuvenation and revitalization. For years she has been constantly implementing world novelties in that range.
She values highly biostimulation and biorevitalization as future-oriented methods offering patients unique, very natural aesthetic effects and above average durability. For over 10 years she has been using own tissues such as fat and stem cells in advanced aesthetic applications.
She participates in a few world aestehtic confereces and congresses yearly, perfecting her skills and looking for newest trends.
A graduate of many special trainings for advanced professionals in European clinics. Certified as proficient or advanced in most therapies of aestehtic medicine. In 2007 and 2008 honoured as "Ambassador of Restylane˝ . She took part in development projects and implementing of new Restylane products.
Founding Member of Polish Wound Management Association. Member of Polish Society of Aesthetic Medicine. A graduate of Pomeranian Medical University in Stettin (pol: Szczecin). Private medical practice since 1999 for skin and vein surgery, since 2004 also in aesthetic medicine and body sculpting.
Professional experience and certificates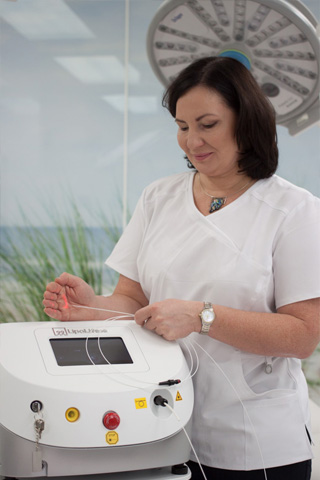 Professional experience of Dr. Ilona Osadowska consists of over 40 thousand aestehtic procedures, rperformed in her own clinics in Szczecin, Poznan and Warsaw.
She uses most of actually known methods and therapies, among others:
Body Sculpting
LipoLife, Body Jet, SmartLipo, injectional adipocitolyse, cryolipo.
Fat transfers to shape breast, buttocks, improve scars, face and skin.
Face and Body Biostimulation
Injectional (Sculptra, Ellanse, Radiesse, Revofil, biopeptides) and using Energy Based Devices.
Advanced sculpting with fillers
All face and body areas, using well known brands of hyaluronic acid - Teosyal, Restylane, Juvederm, Stylage, Neauvia.
Advanced treatments with botulinum toxine type A (Botox, Azzalure, BoCouture).
Advanced Thread Lifting with range of Aptos products
Skin rejuvenation with a wide game of Energy Based Devices - ablative and non-ablative lasers, (CO2, Nd:YAG, Er:YAG, diode), IPL, Low Level Light Therapy.
Classic and laser skin surgery,

Own tissue treatments with Fat, Platelet Reach Plasma (PRP), Stem Cells.- for scultping and rejuvenation.
Scar therapies, including post-ACNE, traumatic, surgical, stretch marks.
Treatments for discolorations and skin laxity.
Medical peelings, including photodynamic treatments.
Phlebology - ultrasound scans, advanced sclerotherapy.
Dr. Osadowska has Lectured in the Below Conferences:
Biostimulation against classic hyaluronic acid, an overwiew - XIV Int. Congress of Aesth. Medicine, Warsaw 2014.

Biomimetic face rejuvenation

– Workshop at XIV Int. Congress of Aesth. Medicine, Warsaw 2014
Sculptra - my experience – XIII Int. Congress of Aesth. Dermatology , Warsaw 2012.
Clinics
Training for Doctors
Dr. Ilona Osadowska trains doctors in a few areas of aesthetic medicene, among others:
Aptos Lifting Threads – Certified World Trainer since 2014,
Ellanse - Certified World Trainer since 2016

.